On the morning of December, 16, the delegation of CASTTC visited the largest certification and inspection enterprise in Dubai---Prime Group. During the meeting, Mr. Salah Amin, Chairman of the Board of Directors, introduced the three main businesses of the company, including certification and inspection of food, cosmetics, construction materials, etc., innova technical & occupational skills training as well as geoscience testing laboratories. He expressed his expectations to cooperate with Chinese enterprises in the above areas. In response to the enterprise's demand, General Director of CASTTC, Mr. Li Guofeng elaborated on relevant work of international training and technology transfer that the Center has been focusing on. He stressed that under the favorable circumstances for export and import cooperation, the two sides could initially build up knowledge about each other by jointly holding training workshops of certification and inspection for Chinese enterprises. In this way, they can learn relevant requirements for Chinese products' export to UAE and other Arab countries, which can set up a fast track for "going out". After the meeting, the delegation paid a visit to the geoscience laboratories testing steel, cement, soil, food, water, air, etc.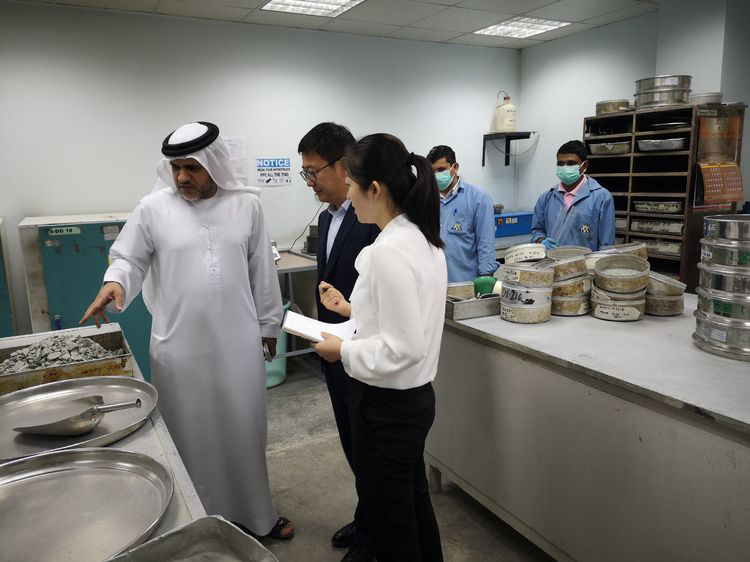 Mr.Salah Amin,Chairman of the Board of Directors,showed the delegation around testing laboratories.
In the afternoon, the delegation visited Dubai Investments PJSC. Ms. Najat Kassir, head of the marketing department, briefed on the general introduction and cooperation intentions of the Group and expected to carry out various investment cooperation with Chinese enterprises through the platform of CASTTC. Responsively, Mr. Li Guofeng specifically introduced the development of energy and chemical industry, new energy, new materials, agricultural IOT, smart city and other leading technologies of Ningxia, as well as the information platform of China-Arab States Technology Transfer Collaborative Network. He stressed that all the above achievements promise opportunities for future cooperation, and a delegation of Dubai Investments PJSC is welcome to visit Ningxia for field investigation. Mr. Sreekumar Brahmanandan, head of the Dubai Investments Industries, positively commented Mr. Li's remarks. He reaffirmed that smart city and artificial intelligence are part of Dubai's 2030 Vision, thus the two sides shall make good use of the information platform for practical cooperation.
Incorporated in 1995, Dubai Investments PJSC is a leading investment company listed on the Dubai Financial Market. In 2018, its total capital volume reached nearly 40 billion RMB with over 40 subsidiaries & joint ventures across a wide array of industries ranging from real estate, private equity, building materials, education, health care, financial investments, utility, to hospitality. Dubai Investments Industries is one of its largest subsidiaries.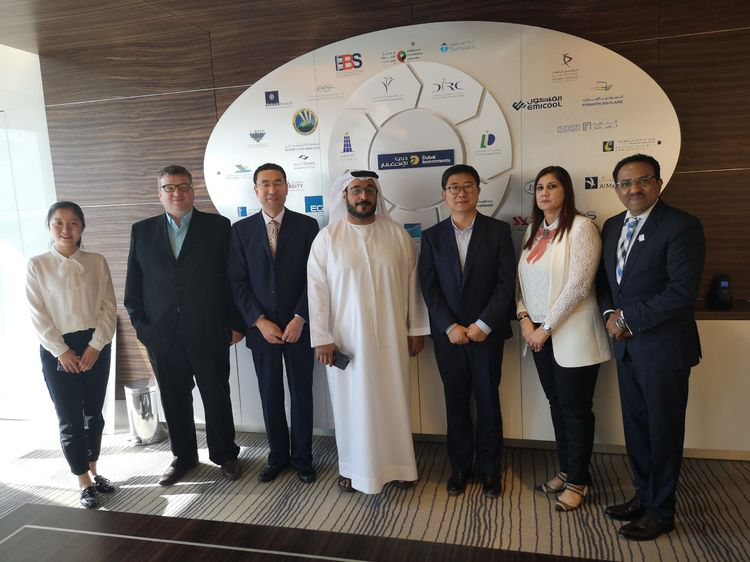 The Delegation met with representative from Dubai Investments PJSC.