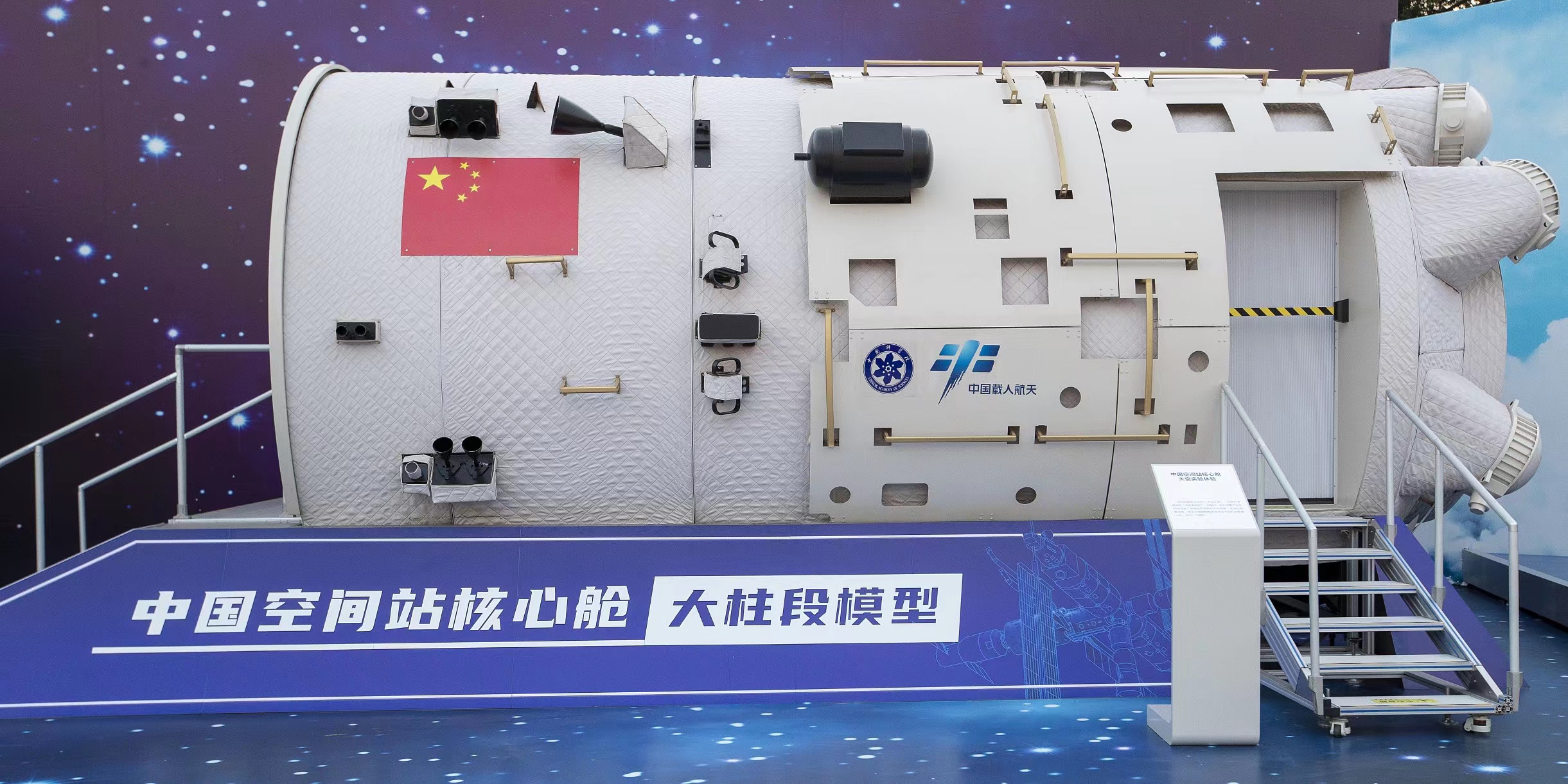 The prototype of Tianhe core module displayed in an exhibition themed "Forging Ahead in the New Era," in Beijing Exhibition Hall. (PHOTO: VCG)
By CHEN Chunyou
In the past ten years, China has witnessed unprecedented changes in terms of science and technology development, entering the ranks of innovative countries, and growing its strength in talent cultivation, industrial and economic development.
According to the Global Innovation Index 2022 released by the World Intellectual Property Organization on September 29, China's overall innovation capacity ranking rose to 11th, increasing by one place from 2021 and jumping 23 places from 2012.
Xing Huaibin, vice director-general of Department of Strategy and Planning of Ministry of Science and Technology, said it is the result of China's implementation of the strategy of innovation-driven development, deepened reform of its sci-tech system, and the carrying out of comprehensive efforts to tackle core technologies, which together supports China's economic and social development, and pushes the country's sci-tech strength to new heights.
According to the report, China's innovation and development show a positive relationship, with increasingly enhanced innovation inputs translated into more high-quality outputs.
Funding for basic research is 3.4 times that of a decade ago, and the total number of research and development personnel in 2021 is around 5.62 million, 1.7 times that of 2012, ranking the first in the world, said Wang Zhigang, minister of science and technology at a press briefing this June.
Talented individuals are the key to sci-tech innovations. In the past decade, a lot of sci-tech system reforms have been carried out. These have centered on researchers, whether in talent cultivation, utilization, evaluation, incentive, or the construction of research integrity mechanisms, easing the burden for researchers and creating a good innovation ecology.
Regional innovation and development have achieved remarkable results, and 21 sci-tech clusters have entered the global top 100 recently, said Zhang Xu, president of Chinese Academy of Science and Technology for Development.
In recent years, China has actively advanced the building of global innovation hubs in Beijing, Shanghai, and Guangdong-Hong Kong-Macao Greater Bay Area, and strengthened the sci-tech innovation and cooperation between eastern and western China, improving the country's overall regional innovation capacity.
In addition, the research capabilities of universities and institutes have continued to improve, and a batch of internationally competitive technological enterprises grow stronger, making the country's innovation system work more efficiently and smoothly.
China has implemented an open, inclusive and mutually beneficial strategy for international sci-tech cooperation in the last decade, and established good sci-tech cooperative relations with 161 countries and regions, achieving positive results in the fields of climate change, food security and human health.
On the global sci-tech frontier, China has made a number of independent achievements with international influence in quantum information, stem cells, brain science and other aspects.
Along with the accelerated application of emerging technologies such as supercomputing, artificial intelligence, big data and blockchain, the digital economy and other new industries and business forms have flourished.
To achieve a high-level of self-reliance and become a world sci-tech power, it's important that China enhances areas such as its original innovation capacity and training of innovative personnel, said Xing.