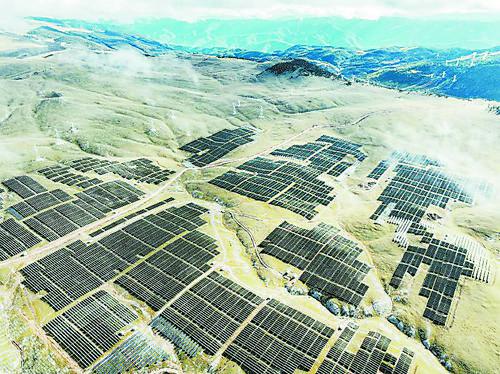 World's first ultrahigh altitude photovoltaic project saw its first unit connected to the grid and began generating electricity. (PHOTO: VCG)
By Staff Reporters
The world's first ultrahigh altitude photovoltaic project has seen its first unit connected to the grid and began generating electricity on October 14, which is expected to promote the green transformation of local energy consumption and economic development.
Generally, ultrahigh altitude refers to an area in excess of 3,500 meters above sea level. The Xingchuan photovoltaic demonstration base, with a total installed capacity of 600,000 kW, is located on the grasslands with an altitude of about 4,000 meters, in Ganzi Tibetan Autonomous Prefecture, Sichuan province.
After the full capacity is connected to the grid, the annual power generation will reach 1.268 billion kWh, saving about 390,000 tons of standard coal and reducing carbon dioxide emissions by about 1.07 million tons per year.
A multiple of innovative technologies, in terms of photovoltaic modules, inverters and energy storage devices, are applied and demonstrated in this project. Digital systems are applied to the construction and operation of the project.
Ecological protection is given equal importance. The project developers have created a system integrating the functions of power generation, water collection, water storage, irrigation and planting, at the same time planting high-quality grass suitable for high-altitude environment, so as to achieve a win-win result between ecological protection and project development.
Editor: 林雨晨